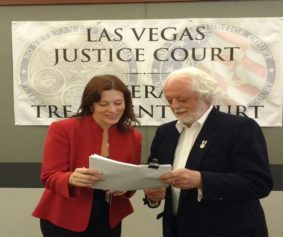 Facts about Las Vegas Justice Court Veterans Treatment Court
The Las Vegas Veterans Treatment Court (VTC) is a court-supervised program coupled with intensive treatment and supervision for misdemeanor criminal offenders. The VTC targets veterans who enter into the criminal justice system and are identified as having high treatment needs for either substance abuse or mental health issues, to include Post Traumatic Stress Disorder (PTSD), and are at risk to re-offend without treatment and intervention. The program requires an expected 12 months of successful participation and involves veterans working jointly with the Court, Community Supervision Office, treatment providers, the Veterans Health Administration, Veterans Benefits Administration, veteran employment representatives, veterans service organizations, service officers, mentors, and other key team members.
The VTC is a specialty court within the Las Vegas Justice Court. The court normally convenes in Courtroom 7D on the 7th floor of the Regional Justice Center, 200 Lewis Ave., Las Vegas NV 89101.
Judge Melissa Saragosa is the presiding justice of the VTC. Her personal experience as a Colonel in the United States Air Force Reserves for over 23 years has given her a unique perspective to identify the needs of veterans who find themselves in the justice system.
What is the purpose of the Veterans Treatment Court?
The VTC is designed to reduce re-arrests, promote self-sufficiency through employment and education and to help veterans remain in the community as productive and responsible members of society by diversion from prison or jail. Veterans will not be sent to jail if they comply with the conditions of the program and graduate.
Who is eliUnited
Any individual who has served in any branch of the Unites States Armed Forces and is currently charged with a misdemeanor criminal offense. The decision to participate in the VTC is voluntary for the veteran who must want to participate in the program. The judge, court staff, community supervision officers, treatment counselors and other team members will guide and assist but the final responsibility is up to the veteran who is motivated to make changes in his/her life.
How do I enroll?
Contact your attorney or advise the court at your initial appearance that you would like to be considered for the program. Veterans may also contact the Court Coordinator at (702) 671-3317 for more information
What is the VTC Mentor Program?
One unique component of the VTC is the mentor program, composed of volunteer veterans and active duty service personnel who freely give of their time to mentor, peer to peer, the participating members of the treatment court program. These volunteer men and women are veterans who have served in Vietnam, Korea, Operation Desert Shield, Operation Desert Storm, Operation Enduring Freedom, and Operation Iraqi Freedom. Experience has shown that veterans are likely to respond more favorably with another veteran than to others who did not have similar experiences. The mentors' active, supportive relationship, maintained throughout treatment, increases the likelihood that a veteran will remain in treatment and improve his or her chances for sobriety and law-abiding behavior
How can I become a mentor?
Dr. Richard B. Small is the VTC Mentor and Resource Coordinator (Dr. Small is also the chairman of the Nevada Veterans Foundation). Click here for an application to be a mentor. For additional information, contact Dr. Small at (702) 513-0215-C or Email him at [email protected]
The link is: https://1drv.ms/w/s!AutnKQMcFBkTgZRuNXPK34EmcW21Jg
Mission Statement
The mission of the Las Vegas Justice Court Veterans Treatment Court is to enhance public safety and coordinate services for the veteran by providing a judicially supervised regimen of substance abuse and mental health treatment in addition to addressing the holistic needs of the veteran with the goal of returning productive law-abiding citizens to the community, thereby reducing costs associated with recidivism.
Learn more at http://lasvegasvtc.com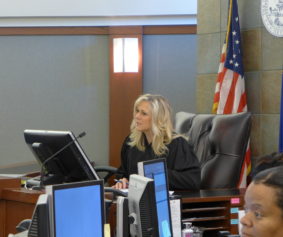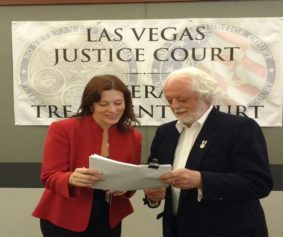 href="https://www.google.com/maps/place/Regional+Justice+Center/@36.16616,-115.1467973,16.5z/data=!4m6!3m5!1s0x80c8c39ec39fead1:0x356a8eb2c8a6fd97!4b1!8m2!3d36.166437!4d-115.1458322?hl=en-US">Veterans Treatment Court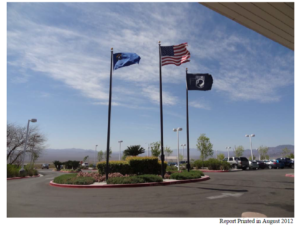 Facts about the Southern Nevada State Veterans Home, Boulder City
The Southern Nevada State Veterans Home (SNSVH) opened in 2002 with the first veterans admitted in August of that year. Within the 82,000 square foot facility, the Home is able to accommodate 180 residents in three living units called neighborhoods, including one with 24-beds providing two levels of secured care living for individuals suffering from advanced cognitive impairment. Each neighborhood has dedicated staff providing 24-hour skilled nursing care with a clinical team committed to "Caring for America's Heroes". SNSVH is a State-owned and State-operated facility receiving support from the US Department of Veterans Affairs. The SNSVH is Medicare/Medicaid certified.
Eligibility Requirements
Applicants must possess a military discharge, other than dishonorable, or be the spouse or Gold Star parent of a veteran who meets this requirement. Additionally, the applicant must be a current resident of Nevada or provide verification of Nevada residency at the time of enlistment in the military.
Application process
The initial application can be completed online at www.veterans.nv.gov. Upon, receipt of this initial application the admissions coordinator will contact the applicant to arrange completion of the remaining admissions packet. If applicants prefer, they may request a complete admissions packet in the mail by contacting the SNSVH Admissions Coordinator at (702) 332-6717. Only applicants who have submitted completed applications will be considered for admission.
Administration
The Administrator of SNSVH is Linda Gelinger (702) 332-6864
Admissions Coordinator (702) 332-6717
Learn more at http://www.veterans.nv.gov/page/veterans-home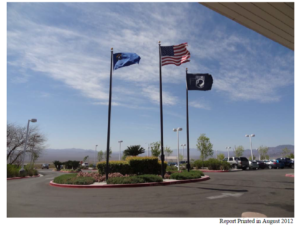 href="https://www.google.com/maps/place/Nevada+State+Veterans+Home/@35.9710449,-114.8720036,17z/data=!4m13!1m7!3m6!1s0x80c92acdf45dab1b:0x55dbcf437d23a416!2s100+Veterans+Memorial+Dr,+Boulder+City,+NV+89005!3b1!8m2!3d35.9710449!4d-114.8698149!3m4!1s0x80c92acdf45dab1b:0xd2af1de85149c275!8m2!3d35.9711535!4d-114.8698223″> Southern Nevada State Veterans Home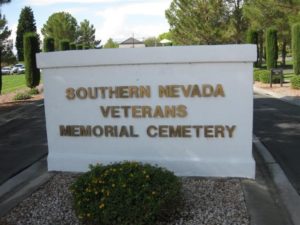 Southern Nevada Veterans Memorial Cemetery
________________________________________
View Virtual Tour. Click Here.
(702) 486-5920
Eligible veterans and their spouse, may be buried at either the Northern Nevada Veterans Memorial Cemetery in Fernley or the Southern Nevada Veterans Memorial Cemetery in Boulder City.
To qualify at SNVMC Click Here.
There is no charge for the plot or for opening and closing of the grave site of a veteran. A $450.00 fee is charged for the burial of a family member. Headstones are provided at no cost by the federal government. Military honors are provided by military units, however, a cemetery staff member can assist in making these arrangements.
Veterans and spouses can now be buried side by side at National Cemeteries
National Veteran Cemeteries now allow for married veterans to have separate burial entitlements — meaning that women veterans can now be buried side by side with their veteran husbands. The Nevada Veterans Cemetery does have an established procedure allowing the space next to an interred veteran to be reserved for the veteran's spouse if they choose separate internment.
This is a great change in procedure to honor our women veterans! If you have any questions, would like to pre-register, or make any pre-registration changes, you can contact the Southern Nevada Veterans Memorial Cemetery directly.
To determine if you are eligible, to make advanced reservations, or if you have any questions, please call either cemetery office at:
Southern Nevada Veterans Memorial Cemetery: (702) 486-5920
National Gravesite Locator
This link takes you to the National Gravesite Locator page of the National Cemetery Administration. Search for burial locations of veterans and their family members in VA National Cemeteries, state veterans cemeteries, various other military and Department of Interior cemeteries, and for veterans buried in private cemeteries when the grave is marked with a government grave marker.
National Gravesite Locator
The Nationwide Gravesite Locator includes burial records from many sources. These sources provide varied data; some searches may contain less information than others. Information on veterans buried in private cemeteries was collected for the purpose of furnishing government grave markers, and we do not have information available for burials prior to 1997.
To see more photos of the Southern Nevada Veterans Memorial Cemetery – click here to visit our photo gallery