Facts about the Southern Nevada State Veterans Home, Boulder City
The Southern Nevada State Veterans Home (SNSVH) opened in 2002 with the first veterans admitted in August of that year.  Within the 82,000 square foot facility, the Home is able to accommodate 180 residents in three living units called neighborhoods, including one with 24-beds providing two levels of secured care living for individuals suffering from advanced cognitive impairment.  Each neighborhood has dedicated staff providing 24-hour skilled nursing care with a clinical team committed to "Caring for America's Heroes".  SNSVH is a State-owned and State-operated facility receiving support from the US Department of Veterans Affairs.  The SNSVH is Medicare/Medicaid certified.
Eligibility Requirements
Applicants must possess a military discharge, other than dishonorable, or be the spouse or Gold Star parent of a veteran who meets this requirement.  Additionally, the applicant must be a current resident of Nevada or provide verification of Nevada residency at the time of enlistment in the military.
Application process
The initial application can be completed online at www.veterans.nv.gov.  Upon, receipt of this initial application the admissions coordinator will contact the applicant to arrange completion of the remaining admissions packet.  If applicants prefer, they may request a complete admissions packet in the mail by contacting the SNSVH Admissions Coordinator at (702) 332-6717.  Only applicants who have submitted completed applications will be considered for admission.
Administration
The Administrator of SNSVH is Linda Gelinger     (702) 332-6864
Admissions Coordinator   (702) 332-6717
Learn more at http://www.veterans.nv.gov/page/veterans-home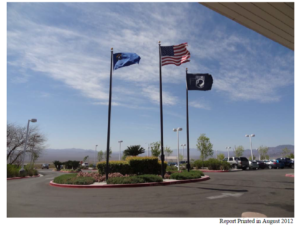 href="https://www.google.com/maps/place/Nevada+State+Veterans+Home/@35.9710449,-114.8720036,17z/data=!4m13!1m7!3m6!1s0x80c92acdf45dab1b:0x55dbcf437d23a416!2s100+Veterans+Memorial+Dr,+Boulder+City,+NV+89005!3b1!8m2!3d35.9710449!4d-114.8698149!3m4!1s0x80c92acdf45dab1b:0xd2af1de85149c275!8m2!3d35.9711535!4d-114.8698223″> Southern Nevada State Veterans Home