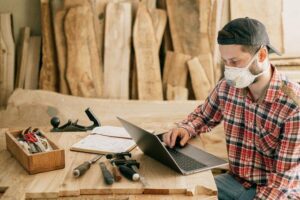 A Guide for Veterans Looking to Start Their First Business
Starting your own business is a wonderful way to make good use of the skills you've learned in the military. After all, entrepreneurs need bravery, perseverance, and plenty of discipline — skills most veterans have in spades. That said, starting a business is never as simple as we'd like it to be, and many vets get discouraged by the path ahead of them. MOPH Chapter 711 offers this guide to help veterans start off on the right foot with their entrepreneurial dreams. With the right steps, you can give your business a solid foundation. Here's a look at how to get started:
Basic To-Dos for Beginners
There are a few truly basic beginner steps when it comes to starting a business. The first is simply coming up with an idea. We'll get more into what kind of businesses work well for first-time business owners later, but first, take some time to think about what kind of work you enjoy. Do you love to interact with people directly, or would you prefer to be hands-off? Do you want to provide a product, service, or both? Do you imagine your business expanding down the line, or would you like to keep things small?
These kinds of questions will help you evaluate business ideas and check that they suit your goals. You should also consider whether or not you'll need to form an LLC. Research LLC rules, benefits, and disadvantages to see if the designation makes sense for you. If you're starting an LLC in Nevada, formation services can help you get the job done quickly and without too much hassle.
Best Business for First-Timers
One of the best ways for a new entrepreneur to start a business is to begin as an independent contractor. An independent contractor is a form of solopreneurship in which you focus on building freelance relationships with clients. You can often do your work from home or on location — meaning you don't need to fund an office or retail space. This can save costs and help you get your footing as you enter the business world.
Becoming a franchisee is another good option for first-time business owners since much of the foundational business creation work is already done. When you run a franchise, the guidance and materials from the parent company give you the tools you need to make your business a success. This can effectively work as training wheels, allowing you to learn the skills you need to maintain a business without crafting a brand new one from scratch.
Business Resources for Vets
Finally, there are plenty of organizations out there designed to help veterans who'd like to start their own business make those dreams come true. For example, the Office of Veterans Business Development, which is a sub-group within the Small Business Administration, can connect you with the resources you need to get your business started.
This can be especially useful when it comes to sourcing funding for your business idea. Many veterans are eligible for great loan programs. You may even be able to find grants for your business, which you won't have to pay off down the line. Investors are also a great way to get funding early on as they can help you cover initial costs for a portion of your profits. However you get your initial investments, work to become self-sufficient as fast as possible in order to create a healthy cash flow.
Running a business is a great way to pave your own path and create the best future for yourself and your family. Veterans deserve to have access to the tools they need to make their dreams come true. We hope this article helps you to get started on the path toward entrepreneurial success.
Photo Credit: Pexels