About the Fisher House



Stephanie Jo Wheeler
VA Southern Nevada Fisher House Manager
Telephone: 702-791-9000
Office Ext. 46789
Office Direct: 702-224-6789
Mobile: 702-241-0154
On February 11, 2016, following a successful capital campaign where some $3.5-million was donated by Nevadans, and matched by the Fisher House Foundation, the Las Vegas Fisher House, built on the campus of the VA Southern Nevada Medical Center (6900 N. Pecos Road, No. Las Vegas, NV 89086) was dedicated.  The Fisher House provides high quality temporary lodging to families of veterans or active duty service members who are undergoing inpatient or extensive outpatient treatment at the VA Southern Nevada Healthcare System or Mike O'Callaghan Federal Medical Center at Nellis AFB.
Fisher House offers a warm, compassionate environment where families find support and encouragement from others in similar circumstances.  It is a "home away from home" and provides a sense of comfort so that families can be together while a loved one in undergoing medical treatment.
The first Fisher House opened in 1991 at the National Naval Medical Center in Bethesda, MD, to support active duty military families.  Its mission continues today as service men and women return from Iraq and Afghanistan in need of VA care.  The Las Vegas Fisher House is operated by the VA Southern Nevada Healthcare System and supported by the Nevada Veterans Foundation.
Learn more at www.fisherhouse.org or contact Fisher House Foundation at 888-294-8560
Check us out on Facebook – VA Southern Nevada Fisher House
Click here for the Las Vegas Fisher House Wish List
link is https://amzn.com/w/3H4TKY977EN5H

Special Amenities
There is no fee for families staying at the Fisher House.  The house is 13,500 square feet,  with 16 private guest suites.  Each suite and room is professionally decorated and beautifully furnished.  In addition to private bedrooms and bathrooms, the house includes:
A common kitchen
Spacious common dining room
An inviting common family room and living room
A common laundry facility
In-room telephone and TV/DVD player
Free Wi-Fi access throughout the house
Who can stay at Fisher House?
Guests must be family members or caregivers of active duty or veteran in-patients, or those
receiving extended, episodic out-patient therapy.
Guests must live 50 miles or more from the treating facility.
Minor children must be supervised by their families at all times.
Only one room is assigned to each family.
How do I arrange to stay at the Fisher House?
The Fisher House manager, assistant manager, or designee will determine eligibility and
advise the family of the status and appropriateness of the referral and availability.
Rooms are assigned on a first come, first served basis,
Families may call the Las Vegas Fisher House directly at (702) 224-6789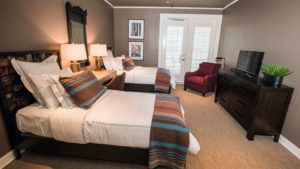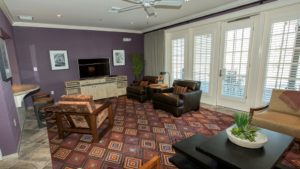 BED ROOM TWO BEDS                                         FAMILY ROOM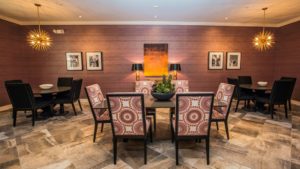 ROOM TO THE RIGHT WALK IN
http://www.fisherhouse.org/programs/houses/house-locations/nevada-va-southern-nevada-healthcare-system-las-vegas/